You can sign up for VOLUNTEER SHIFTS at the lemonade stand, as well as DELIVERY ZONES (this is where you'll pass out your invitations door to door!)
Click here to sign up for these online!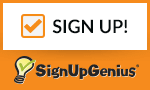 If you would like to chat, send us a message!
INSTAGRAM: @LEMONADEFORLOVE
TWITTER: @LEMONADEFORLOVE
FACEBOOK: FACEBOOK.COM/LEMONADEFORLOVE
2018 assets can be viewed here.